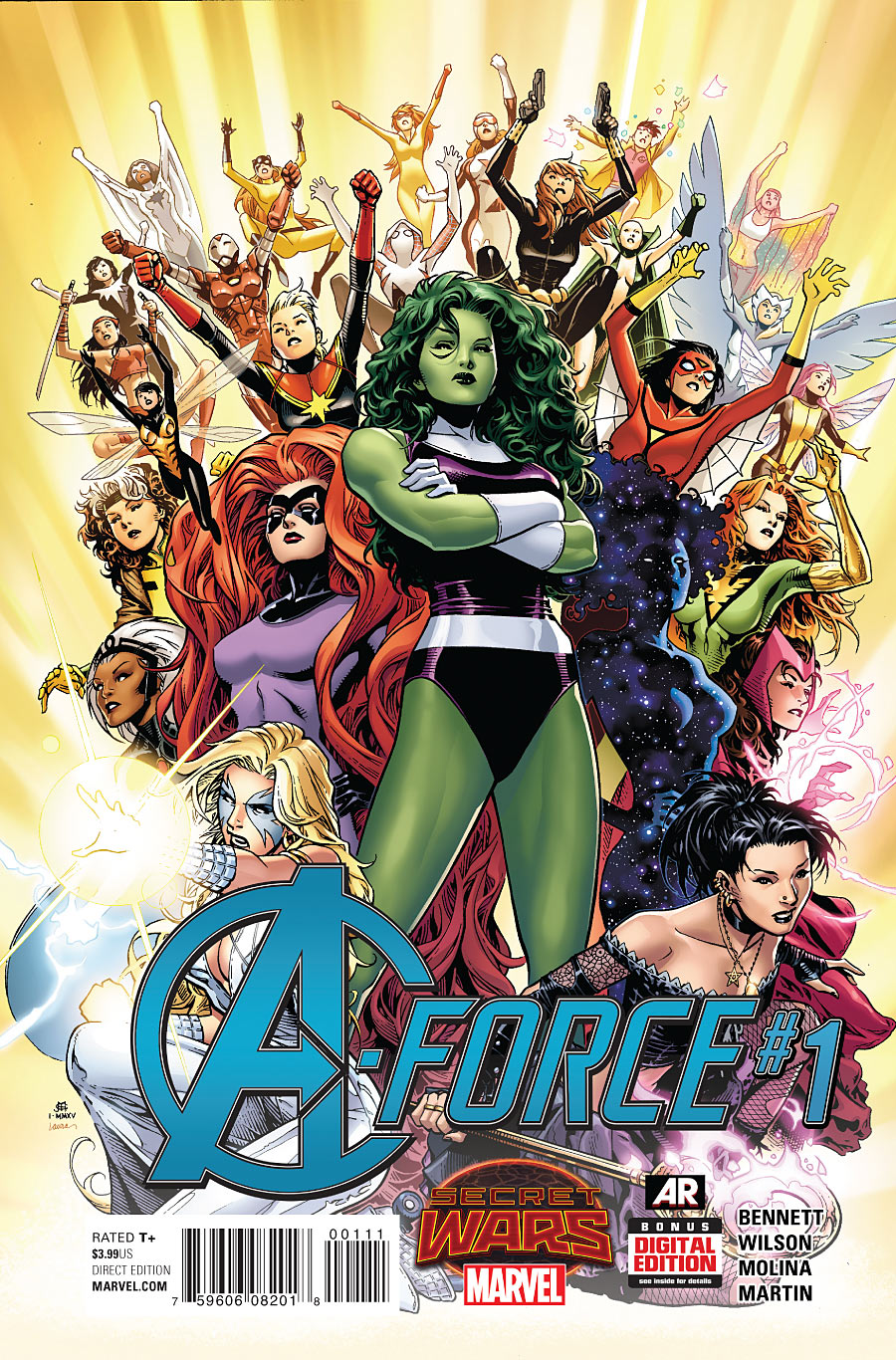 A few months ago Marvel made big news by announcing a new Avengers title written by and starring all women.
A couple of weeks ago, The New Yorker published this. Many were, rightly, upset by the dismissive and shaming tone of the article, but I couldn't quite put into words what bothered me so about it, so I stayed quiet and let those with more to say handle the matter, eventually including one of the writers, G. Willow Wilson.
Yesterday A-Force was released and, curious, I went back and reread Lepore's article to see if it made any more sense in context. The result was a two-hour twitter rant that, to my surprise, articulated my frustration with the piece and just kept growing.
I honestly expected this to be a short twitter rant but it effectively became a blog post I wrote nearly on autopilot. Twitter isn't really the best place for such things, but I actually was happy with how it turned out, as well as with the positive response it received, so, for the sake of reader convenience, below you can find an adapted and clarified version of my rant.
Now that I've read A-Force I went back and read the New Yorker article. I'm less knee-jerk about it but possibly more upset.
The basic premise of the article seems to be that A-Force's characters "all look like porn stars." Lepore said she doesn't read many comics, perhaps more than she realized, but that sounds like someone who doesn't watch much porn either (I don't know which medium should be more offended). Then again maybe she does, as the body-types in A-Force actually kind of do reflect the diversity of shapes in porn. The characters are all fairly skinny, if differently so, and either have C-cups or larger or try to hide that they don't. And just for the sake of clarity, that's just mainstream porn. Like mainstream enough that adults should just be aware of it via cultural osmosis.
*
It also continues to annoy me how much of Lepore's article was based on the cover and first few pages of the comic, I.E. before the exposition, not to mention that the entire thing is filtered through the eyes of two ten-year-old boys. It's undeniably important how young boys view these characters but voiding this comic, and trashing the medium, over that is weird.
At no point does Lepore question what effect societal patriarchy has on their interpretation. Nope, definitely inherent to the work. And let's not even start on the question of whether the questions she asked or the way she reported the answers were biased. Not that she was running a scientific study or anything, but you probably should acknowledge you can't really draw conclusions from a sample size of two children.
And that's one of the places where I start tearing at my hair. Yes, the battle for feminism actually takes place in the minds of young boys, but on some level I have to ask, WHY DIDN'T YOU ASK WHAT TEN-YEAR-OLD GIRLS THINK OF THIS!?
*
Looking back on the article it feels like she barely read the comic and just spilled her uneducated preconceptions onto the page. While that's hardly a new experience, it points to the problem. This article wasn't really feminist critique, it was a privileged person tearing a sincere attempt apart to elevate herself. The amount of time devoted to Lepore's questionably relevant expertise is way too high and the connection to the text too flimsy. There's next to no analysis that you couldn't have based on the cover and Lepore probably wouldn't argue with me if I said that this comic really wasn't the point. This was clearly an attempt to comment on comics and comics culture as a whole, however the desperate pride in not reading comics is too much.
Much as I thought I was done with this after Jack Thompson ceased to be relevant, it's hardly just those outside of comics. That's a huge part of why the backlash against this article has been so strong and, often, so unhelpful. Lepore seemed to argue that she was most qualified to speak on this issue because she doesn't read comics, all while reminding us of her book. You can't have it both ways!
And, yes, I and plenty of other fans have a little too much skin in the game, take this a little too personally. I really like the creators she's dragging unfairly through the mud, really value the medium she simplifies, the genre she disdains, but I have heard all this before. It's not new and it's not impressive.
I don't doubt that Professor Lepore is generally a kind person whose priority is a better, fairer world for all people, so it's very upsetting that she manages to articulate the simplest stereotypes that send fanboys up in arms and fanboy ignorance all at once. Feminism is probably not amplifying the voices of boys who see Marvel's best and think "[They] have, like, gigantic cleavages". But somehow, at the same time, you've also given validity to every mouthbreathing dudebro who likes to complain about clueless, joyless feminists. I know Lepore wanted to help, but on several levels she's made it harder for people who actually are fighting to make a more equal world.
And I know I'm walking the same line between critique and snark, but I'm some guy on twitter paying close attention to that fact. She's a Harvard professor writing for The New Yorker. Admittedly, that's winning privileged academia bingo, but it means that she has power she could bring to bear.
*
G. Willow Wilson's response has already proven that she's a gem of a human being and of a feminist, not that she or Marguerite Bennett ever have to in my book – seriously they're both wonderful people – but it was frustrating to see them taken to task and additionally so to see Willow let Lepore off the hook for so much, even if she stuck the landing like nobody's business. These are people who care deeply about comics and, of more direct importance, about women and equality. A-Force is certainly not the pinnacle of comics feminism – not even superhero feminism – but it's a big step.
*
It also bothers me that a comics historian can't bring herself to engage with the material in the context of history. "Ugh! She-Hulk! She-Iron Man!" "That's Resc-" She-Iron Man!" Maybe there's a complicated and problematic history of undermining new heroines. Maybe you could have written a brilliant, funny article about that with the eyes of the world on you. But no. Professor Lepore takes the opportunity to hype herself at the expense of the genre and its actual strengths and failings.
That's also why it stabs at me when Lepore writes "Marston also gave [the Petty girls] the kind of names girl superheroes still get." Admittedly, there's Ms. America, but, reading the issue, it feels as though Lepore twisted to avoid looking at Captain Marvel. Indeed, the most basic googling would reveal how clearly and significantly things are changing for superheroines in this decade. Excepting Nico Minoru, who dresses like a goth raised by Loki (she is), all the characters who've come to prominence in the last 15 years cover up. They dress arguably more professionally than their muscle men male counterparts and lack the 'universal' enormous cleavages Lepore mentions.
*
In six years 'Captain Comics' will understand all this. I'm not sure Lepore or any of her readers can say the same.
In short, Lepore has convinced me that A-Force's heroines are a little too uniformly skinny, but she's also convinced me that if your son can't imagine these characters as heroes, this comic isn't the problem.